Nissan GTR R35 3.8 TT EBC Brake Upgrade
R29,700.00 – R61,600.00
EBC's Premium Fully Floating Two Piece Lightweight Rotors/Discs + Yellowstuff Street & Track Pads.
'SG2F' rotors that serve as a direct replacement for performance vehicles where 2-piece brake rotors are fitted as standard, e.g. Nissan GT-R (R35).
Where the vehicle has a 2-piece pin-drive brake rotor as original equipment, EBC's SG2F 2-piece rotor upgrade seamlessly replaces the pin-drive rotor with a true fully-floating 2-piece rotor, whilst requiring no vehicle modifications.
Kit: 
EBC® Yellowstuff (Original Equivalent) Brake Pads – Front
EBC® Yellowstuff (Original Equivalent) Brake Pads – Rear
EBC® 2 Piece Lightweight Floating Rotor – Front
EBC® 2 Piece Lightweight Floating Rotor – Rear
Fitment: 
Nissan Skyline GTR R35 3.8 TT (Non-Ceramic): 2012-2016
Partnered RMI Approved Workshop Fitment Available In Gauteng;
BestDrive Midrand – 317 16th Road, Halfway House Estate, Midrand.
SupaQuick Bruma – Cnr Ernest Oppenheimer Ave & Arena Cl, Bruma Junction, Bruma.
TrackRecon – Authorized EBC Brake Distributors & Installers South Africa – 076 226 6644
Description
Nissan GTR R35 3.8 TT Brake Upgrade – EBC's Premium Fully Floating Two Piece Lightweight Rotors/Discs + Yellowstuff Street & Track Pads.
G3500 Disc Alloy Friction Rings
Every outer ring is cast from the highest-grade disc alloy 'G3500'. Derived from race technology and having a high carbon and high copper metallurgy, G3500 disc alloy has superior thermal conductivity and heat cycling durability for maximum brake rotor life and performance, particularly during harder driving or track driving.
48 Curved Vanes

All cast iron rings feature 48 curved vanes and are handed left and right, ensuring the vanes always rotate in the correct direction, giving maximum cooling efficiency.
Aerospace Grade Aluminium Bell
The mounting bells used in EBC Brakes Racing's 2-piece rotors are each precision machined from a billet of aerospace grade aluminium, ensuring they are both strong and lightweight.
The bells are subsequently black anodised, providing an aesthetically pleasing and corrosion-resistant finish, allowing the mounting bells to be re-used for multiple outer friction rings thus leading to lower long-term running costs.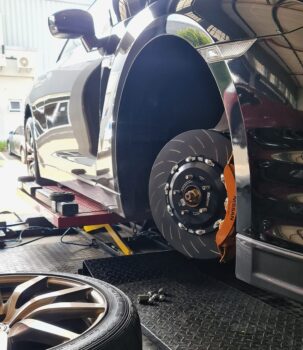 Other Key Benefits…
Lightweight with Lower Rotational Inertia
It is widely acknowledged that a vehicle is constantly working against its weight whenever it is moving. Weight blunts acceleration, reduces deceleration, and slows the rate of changes in direction. A brake disc clearly adds to a vehicles weight but more importantly it adds to a vehicle's unsprung weight. The fact that the brake disc is rotating also results in it having a rotational inertia.
The impact that a brake disc has on vehicle dynamics is therefore more significant than any other weight-adding component on the vehicle. The fact that EBC Brakes Racing's 2-piece rotors offer a significant weight saving compared to similar sized brake rotors leads to improvements in acceleration, 'dive' under braking, and tyre road holding. Particularly in the case of SG2FC 2-piece conversions, the improvements in response of the vehicle before and after the upgrade is profound and highly perceptible by the driver
Note: * All 'SG2FC' 2-piece floating conversions will seamlessly replace OEM 1-piece rotors too and are designed to integrate with the OE caliper and pads with no vehicle modifications necessary.
Can't find what you're looking for?
Search Our Online Store
Or fill out the form below for a quote..