EBC Bluestuff NDX Super-Street, Trackday & More..
Bluestuff NDX is a high friction sport and race pad that now has R90 approval on almost all fitments for the EU and is therefore totally street legal.
Bluestuff has been used for several seasons in BMW Cup racing with shorter duration and is the EBC Track-day recommended pad. For longer races see the EBC RP or SR ranges. Bluestuff is a popular UPGRADE PAD for heavier SUV and 4 x 4 in street use because of its incredible braking power and high fade resistance and is very popular even on armored street vehicles.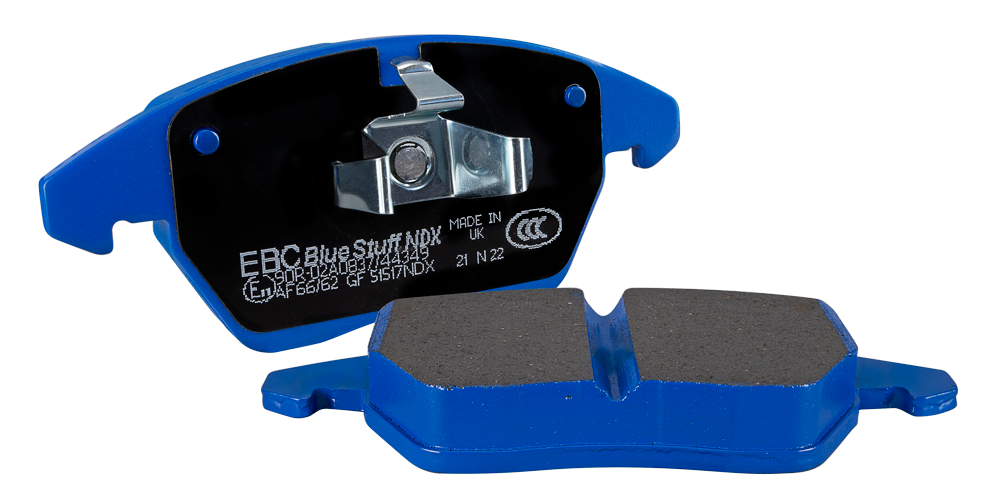 The Club Level Racers Choice
Bluestuff is an entry level trackday and race pad that has good street manners and is actually R90 approved for street driving. There are two compounds within the Bluestuff range Bluestuff NDX higher friction 0.52 Mu and new Bluestuff B with a lower 0.42 Mu.
However, due to Bluestuff having excellent cold friction and being very controllable, this compound has quickly become the brake pad of choice for performance road car drivers in USA and Asia markets where R90 homologation does not apply. More recently, EBC is pleased to announce that Bluestuff has passed extensive road-focused testing and gained R90 approval on some E.U. fitments, making it unique in being the first truly track-focused pad which is also perfectly legal for use on the public roads across Europe. There is no requirement for E.U. customers to inform their insurance company following the fitment of R90 approved pads.
For customers with experience of EBC's widely acclaimed Yellowstuff material, Bluestuff boasts a similar friction profile but with a usefully higher friction coefficient across the now larger working range, feeling much like you'd imagine Yellowstuff to feel after a double hit of espresso. Bluestuff has the added benefit of much faster bed in time has a high friction coefficient without feeling grabby, taking things up a notch from EBC's Yellowstuff material by bringing superb pedal modulation to a track pad with even greater fade resistance.
When planning a track day, even bedding in of the Bluestuff and Yellowstuff grades is essential that you bed your pads in correctly. As we tweak compounds to further gain performance this advice changes, our latest advice on bedding in these two Hybrid grades for track use is here.
For customers seeking the ultimate road/track pad with even greater levels of performance, check out EBC's range of RP-1 and RP-X race brake pads which deliver faster bed in and higher temperature fade resistance.
EBC's track and race materials are exceptionally kind on brake discs, making them especially desirable for modern performance cars that feature complex and hugely expensive 2-piece brake disc systems from the factory. Customers report that EBC track and race pads are far kinder to brake discs than comparable granite-like semi-metallic pads, which may last longer but take the rotors with them.
When we say "Trackday" don't underestimate this fantastic material.
The reason we draw users' attention to the words Trackday ( also known in the USA as lapping ) is because of this material's fantastic ability to bed in quickly. Weekend fit and go drivers do not want to spend their laps bedding in brake pads.
Yet when used on more serious race track drivers this material delights and up to rotor temps of 0-550°C (Ambient – 1000°F) Bluestuff is the way to go. This material has been used by numerous spec series cup car racing groups in Europe.
The NDX pad material is bonded to the steel backing plates using the patented NUCAP NRS hook system which raises shear and bond strength by a factor of five and prevents pad to plate separation. The pads are then baked and ground and feature high-volume Vee grooves to catch the larger amount of debris from track use.
Target use is all types of fast and heavier cars in performance and race driving with a much enhanced lifetime over our previous Yellowstuff grade pads.
Made with Nucap NRS hooks on backplates to totally eliminate the chance of pad debond.
Bluestuff is available in NDX high friction version at 0.52 Mu and a lower B version for many rear applications on lighter cars with a lower 0.42 Mu.